Good Morning,
as apparently nobody likes those sweet little bastards croaching around on your floor and settling inside your buttery, we're the target of a lot of guys recently. As you see in the def rankings, those actions weren't too successful. So, let's have a look at the reports.
ELEMENTS vs. Insects - 14.11. 23:00
Tonight, ELEMENTS attacked a lot of capitals & treasuries of us. Our def sheet exploded, and to top it off I (being online until 7-8 am usually) had a important call yesterday morning at 9 am with some stuff to do after that and decided not to go to bed at 13:00 ... big mistake, as I was tired as hell and had to leave for bed around 21:30. But I didn't leave before calling one village I believed to be (one of the) real attacks. Bombus and Scabies believed (in) me, despite my drowziness and did all the coordination for me after calling out a target. DrunKing made a city out of his capital for a level 20 water ditch with a little resource help of ours and built a stonemason level 20. Turns out, I was right and DrunKing's capital was one of the two real targets. Needless to say, that no hammer returned home, none of them even saw the def. Here the reports, not in chronological order though, because my image upload tool mixes the order when bulkuploading:
Report Screenshots:
Summary:
| | | |
| --- | --- | --- |
| Player | Hammer | Cats |
| Maya Halls | 27k | 740 |
| Art1x | 68k | 300 |
| javagame2 | 30k | 200 |
| GorGona | 98k | 250 |
| Vibrissa Enota | 41k | 300 |
| Sparr0w | 74k | 250 |
| Denn | 72k | 300 |
| vlad22 | 25k | 327 |
| uni2zik | 34k | - |
| Cigans | 50k | 300 |
| Total | 519k | 5517 |
Unfortunately, I missed the second target they hit, causing Natravnen's capital to be heavily damaged. Fortunately however, we're a swarm and no ego-players, so we all sent him a big chunk of resources for rebuilding his capital, most of which being rebuilt by now. Natravnen managed to snipe some cata waves with in-between-def [may someone tell me how you call it in english?] on his own, causing 624 catapults to die.
Report Screenshots:
Italians vs. Insects - 14.11. 02:00
The very same day, 21 hours earlier, we had another visitor. It wasn't the first time they hit us, but the previous ones weren't too mentionworthy. In their first op (29. October) they managed to steal 2k treasures from my capital, losing 3 of 5 hammer sin the progress. If you're interested, find the reports below. The last time before yesterday they visited, they tried to steal several villages from us. They managed to steal my 002 and Harb's 004 I believe, don't quote me on his village number. My 002 had 20k troops build in it (10k off / 10k def), Harb's village none. We re-chiefed both villages within 48 hours without losses. Other attempts in the same op were dead chiefs due to in-between-def, one "hammer" died on the villages' self-built defense and some attempts to one-hit two villages with a roman triple chief with big party failed. That being said, let's get to yesterday.
Italians are confederated with Turks (source: they apparently hit DEVILS together and Kyum told me), so they apparently thought they're in a position to blackmail us into cooperation for a wonder à la "do you want to cooperate with us? DEVILS refused to cooperate, so we hit them hard." (it's not a 1 : 1 quote @mods). I told them we don't care about wonders and we prefer their dead hammers in form of def points. They insisted and gave us a deadline of 12 hours, to which I mockingly responded, that we accept their capitulation, if they donate us their treasures, abdicate their vacation-mode-duke, provide stationary defense for us and give up Kyum's triple chief next to us. They obviously didn't do that, didn't even respond to that anymore, but made an offplan against us, hitting yesterday 02:00. Finally. I wanted those def points!
So, what happened? Italians attacked Scabies', my and Bombus' side villages mainly. Based on experience, we decided to put a little def into most villages instead of full-deffing a few. Some reports look funny and stupid (and they probably are), but we figured that it's enough to kill 25% of the hammer to kill one of two chiefs to ruin the conquer attempt. Also we didn't expect the two roman hammers against Scabies to be that big. But if it looks stupid but works, it ain't stupid ... I guess.
In the end they managed to conquer only one out of five - and we re-conquered that a few hours later.
Italian op from 29. Ocobter that I mentioned above:
Aftermath:
Top3 def kingdoms overall:

Top3 defender of the week kingdoms: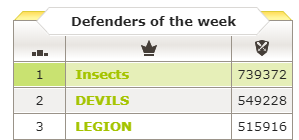 Top10 def players overall: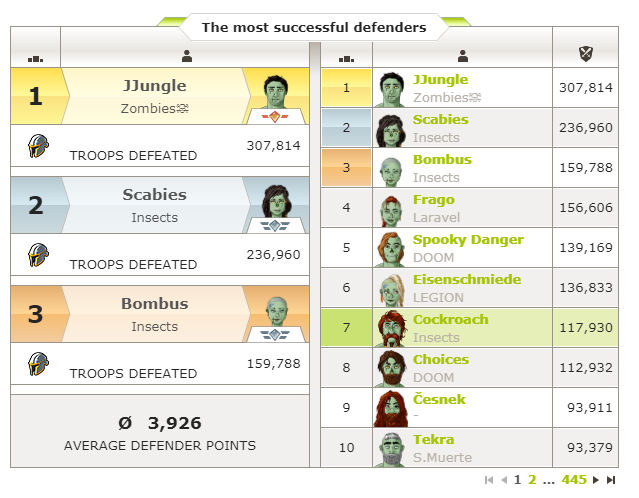 I hope you had a great read and enjoyed the reports.
Best regards,
Be2-e4